Thanks Brenda for the nice birthday greeting. I had a very nice birthday. I talked to all of my family, had happy birthday sang 5 times and my husband made me my favourite dinner and he made me a sugar free chocolate cake from scratch (now that is true love)
I had a great day at the store tonight. I had a few minutes of panic as I couldn't find my knitting anywhere. I put it down when a customer came in and when she left I couldn't find it anywhere. It is one of the Christmas hats for the kids. I have 6 done and need to do 6 more so it is my main knitting these days. So loosing one wasn't an option.. I laughed when I found it nicely nestled in with the scarf yarn in a big bin. See why it was hard to find.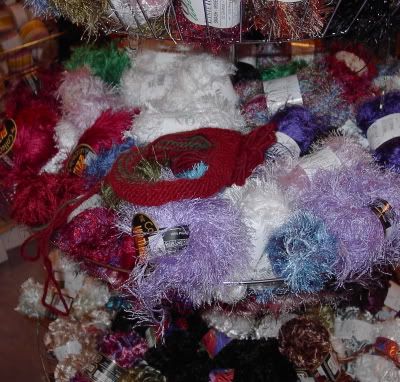 Do you remember Deb, she is one of the beginner knitters (actually I think she is closer to pro now), She started a few weeks ago and she has definately caught the knitting bug.She is wearing her first knit item, her chunky knit vest. She followed the pattern sort of and then added some of her own touches. She has also knit 4 scarves, 3 hats and has started another vest in Mango moon and Pash mohair. It is amazing. I put a close up of that below. It is so soft and the colours so rich. Good going Deb. I am sure we will see lts more of her knitting.

Mango Moon vest

I am knitting like crazy when I can keep track of my knitting. I also knit 2 more scarves this week as presents. So I have 6 hats to go, 3 more scarves, another slipper, 1 baby sweater and 12 pair of socks to knit before Christmas. What do you think my chance of pulling that off are. Off to knit