I had a great day at the store yesterday. It was busy all day and I got orders for 2 more sweaters to knit and more socks, so I should be busy this week.
Brenda came to the store and we had a nice visit. It was fairly quiet so we had time for fun. She helped me pick out colours for a sweater that my Mom is going to make me for my birthday. Lucky me. I will post about it once I know for sure the colours I want. Brenda.'s shawl is amazing. It is so soft and snuggly. The
sweatermaker yarn is really nice. I need to get more in the store soon.
I decided I want to make that shawl too. I am going to use 3 colours of Batik and 3 strands thick. I am going to try and do a shading change of colours.
I haven't done a swatch yet to see how it will look but I can see it in my mind and it looks great. I am too lazy tonight to wind yarn so it will have to wait.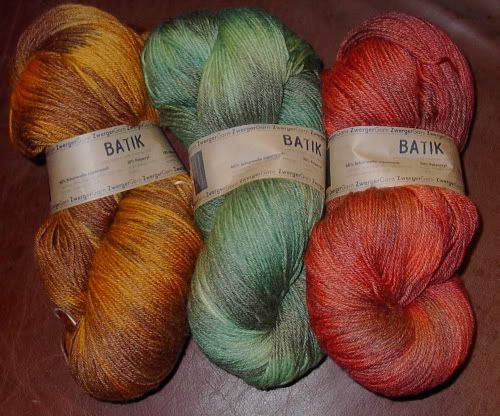 My son is going to help me with my web site to get it looking good again. I think we are a long ways from having the online store but it is going to be a work in progress for a while. In the meantime there is always eBay. I better go get knitting.