As always it was a fun day at the store. It was sure busy and I think a lot of people are getting knit scarves for Christmas.
Marnie brought in a scarf she is working on. Here is where you will find the pattern. It is called Yarn Party and it is perfect name for this scarf. She is making it with Mango Moon, Colinette Isis and Giotto. As always the picture doesn't do it justice. She promised to show it when it is finished also. She has a real talent for picking colours and yarns that go well together.

Meet Deb. She is Quadra's newest knitter. She came in to sign up for my begining knitter class and couldn't wait so we got her started.I think she will be a great knitter, she certainly has the desire. She cast on for a nice chunky knit vest and got about 3 inches knit before she left. We will see more from her. I will post her progress. I encouraged her to get a blog going so if she does I will link to it.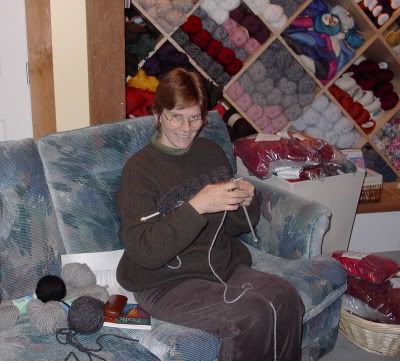 I am going to offer a 3 week beginner class starting Nov.17th and be from 7 - 8:30 for 3 consecutive Thursday evenings. The add will go in the Hungry Eye this week with more details. Since this is my first class I am only going to take 3 people and see how that goes. Deb has signed up so I have room for 2 more. It should be fun. I love teaching knitting, it is very rewarding.
On my knitting I got very little done yesterday. I got the other mitt done and a felted child's slipper. I was too excited to see how it would felt anf threw it in the washer before I had them both done. I took it over to the store yesterday to watch it dry. It turned out really nice. this it the first item I have ever felted beleive it or not so I was thrilled. I can see a lot more felting in my future. I will post a picture later once I get the second one done and before I wash it to show the size difference.