Well we all made it through the Craft Fair. It was a lot of work but well worth it. This is a picture of our set up on the first night. Mom and I each had a table the first night. Mom's is the one with the white table cloth and mine and Megan's is the red and green one. Luckily we sold a lot the first night because we needed to condense all of this to 1 table for the next day.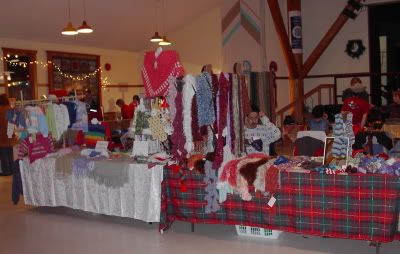 This is a picture of the 4 generations of knitters. Since Meika isn't a knitter yet I let her hold my knitting. She thought that was a good deal and tried to eat the needles. We had a lot of fun.
This is day 2 of the craft fair. Mom and Dad, Megan and Meika.

Here is how much Meika liked Santa. She went stiff as a board and screamed. She hasn't figured out he is a good guy yet.



Santa and his elf both look very concerned. Meika is wearing her little Noro sweater I made her and Noro Iro Toe Kozies, Megan made her. It is a really cute outfit on her.


Sleeping peacefully after the Santa trauma all wrapped cozy in her Regia silk blanket Great Grandma made her.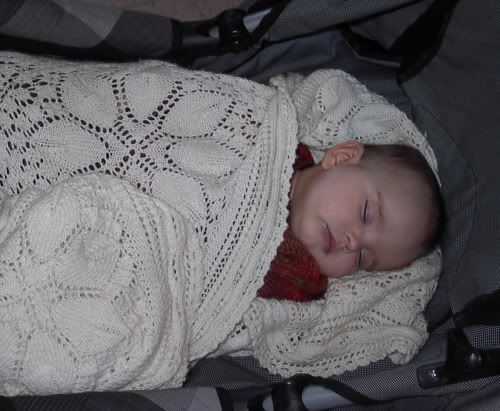 It was a great weekend. The store was really busy yesterday. A lot of great projects will be strated this week on Quadra. I am starting the vogue jacket today and will post progress. I am also going to be knitting fingerless mitts in Noro Silk garden, 2 pair of socks, an earflap hat for a baby and a hooded jacket for a baby. These are all Craft fair orders.


The baby sweater and socks I will do on the machine so they will go quick. The rest is hand knitting. This is my idea of fun. 5 or 6 new projects starting all at once.