For everyone who wished they could have come with us here are some great pictures of our weekend retreat at Hollyhock on Cortez Island. On Friday afternoon we all met at the restaurant on Quadra Island and had lunch then the group came over to Fun Knits to shop before we headed off to Cortez. Here we are leaving the dock on Quadra on the ferry to Cortez.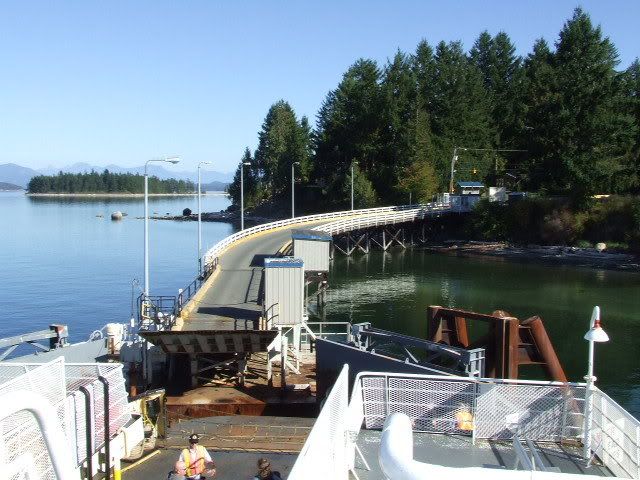 On the way some dolphins decided to follow the boat. It was hard to get a good picture of them as they move so fast. It was nice of them to perform for us.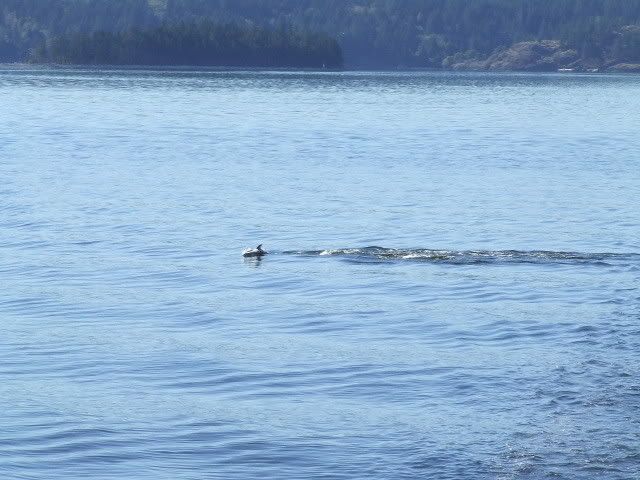 We arrived at Hollyhock at after a short detour to the local yarn/book store. We just couldn't drive by the yarn store without stopping. We all bought some yarn including me. I got some Briggs and Little sock yarn. I have been wanting to try it before I bought it for the store. I got 3 skeins so that should be enough for a fair trial. It was fun to shop in this little store.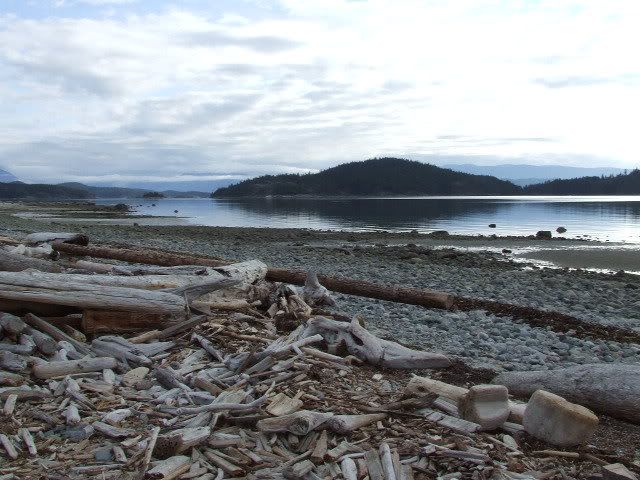 We arrived at hollyhock just in time to get settled in our rooms and then have supper. We all sat around and knit and chatted getting to know one another. The next morning we settled into our workshop of designing random lace. Now you would think that would be easy just to knit random lace but I found it hard. The challenge was to chart the lace then knit it. It is very hard to place lace randonly on the chart. I always ended up in some form of order. It was a fun exercise and I learned a lot. Below is the lovely room we worked in. The house was called Bluff House and it was situated quite high with an hill with a wonderful view among the trees.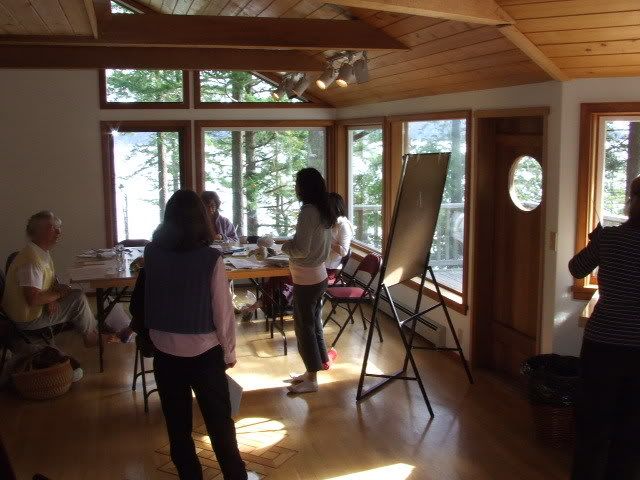 Later that day we went to the Beach house and sat on the porch and knit a lot more. This is a picture of Sue teaching Kathy to knit 2 socks on circular needles. It was interesting to watch as I have never taken the time to learn that method. Later that night we went to the Beach house again and knit and talked about everything including knitting of course. it is amazing how much talk about knitting people can do.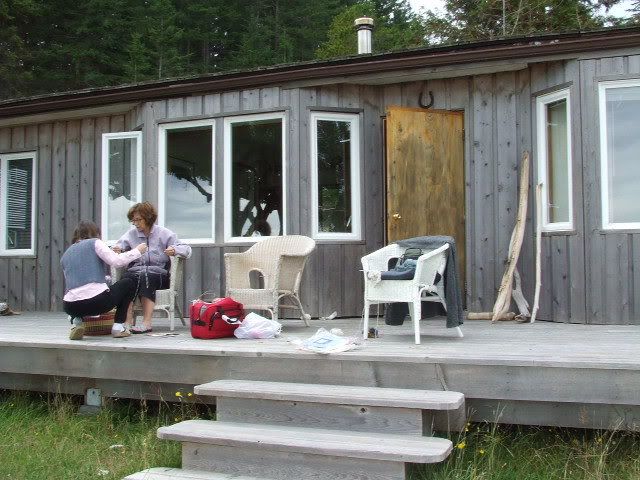 This is Barb coming to meet us for kntting on the porch. The geese were neat to watch and they hung around most of the time. The view was wonderful and the setting was very relaxing. I even had a nap after lunch one day. What a treat.

This was the view of the sun coming up this morning. It was really nice. I got up very early , had a shower and then took my knitting down to the living room and sat in the sun to let my hair dry while I knit. I felt like a cat sitting in the sun. It was quite nice. A great way to start the day.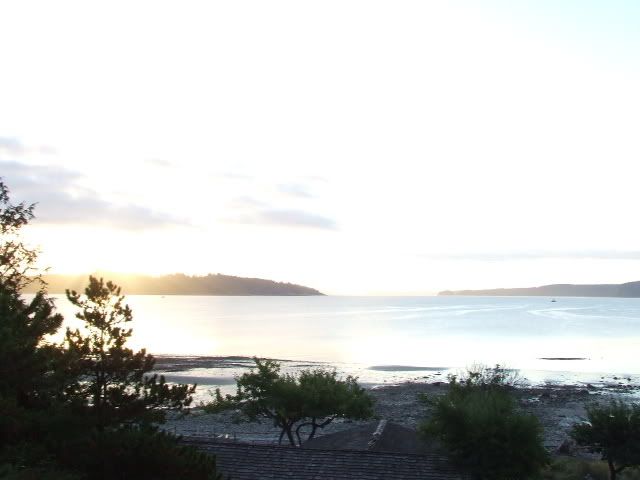 After breakfast we went on an outing to a few local farms and met some of the local spinners and knitters. First we went to Joy's house and got to look at her lovely wool. Isn't this a beautiful room full of wool.

This is Jan and Joy. Jan has lovely Alpaca. It looked very soft but I am too allergic to Alpaca to touch it. I am going to be carry both Jan and Joy's yarn in the store. Jan is going to get some Suri Alpaca spun in lace weight for the store I can't wait.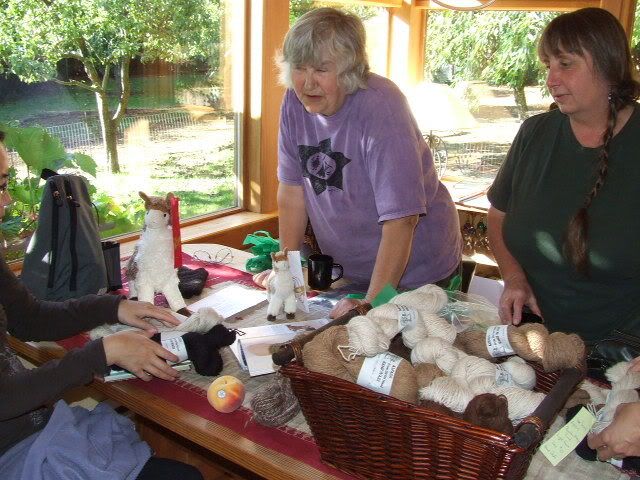 This is Gail spinning some Alpaca. I really couldn't get too close as I was getting pretty itchy being in the same room with the spinning. I wish I wasn't allergic to Alpaca. I love it.


Then we went over to Ginny's place to meet her sheep. They are so lovely. They were a bit shy of us but also curious. Ginny has a lovely home on Cortez and she invited us in for tea and wonderful conversation. I really enjoyed meeting these fine people from Cortez. We are also going to carry Ginny's wool in the store. It is lovely, she has it in 3 natural colours from dark brown to beige.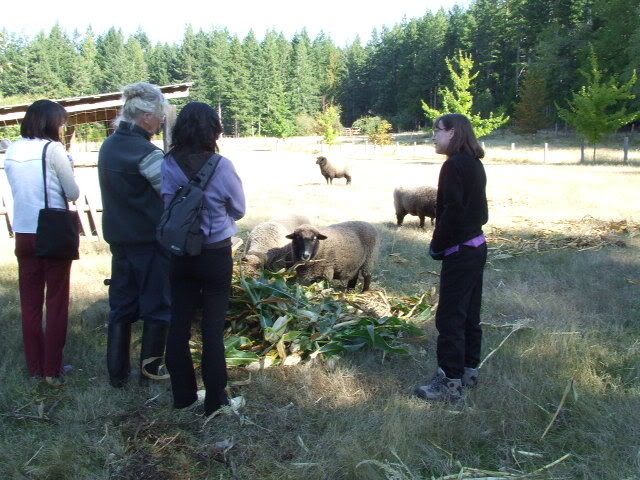 After our visit we headed back to Hollyhock for lunch an then back to the workshop. I was very inspired by the lace knitting and cast on for a baby sweater with a lace sunburst on the back. I think it was inspired by all the lace and sun I enjoyed over this weekend. I will show a picture when it is done. I had to leave early and come home tonight . The others all got to stay and enjoy another evening. Tonight they were having and oyster bake on the beach. I am sure it was wonderful. What a wonderful weekend I had enjoing the company of these knitters. I hope to do that again soon.