Sorry for anyone who reads this regularly. I have been too busy to blog. See why, Megan and Meika came to visit. Meika is into everything now and just full of energy. She is crawling all over now, not walking yet, but she is fast enough crawling. They went home yesterday. It was a nice visit.


I have some pictures to show from the store last Saturday. I am sure these people have been checking the blog all week to see if they are on it yet. So here they are. McKenna is 2 years old and her Nana made her this really cute poncho with Noro. It is the pattern from Knitting Pure and Simple.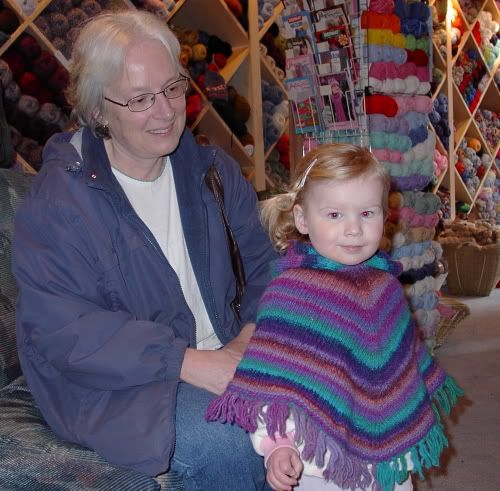 McKenna is a great model. She is so cute. I want to make one of these poncho's for Meika for next fall and spring.

Here is a picture of the Shy guy knitter's wife holding his latest creation. He just learned how to knit cables so he made himself a sweater and is working on one for his grandson. He is a great knitter just very camera shy. Someday he will pose for us. Isn't that a nice sweater. It is knit with Paton's Aran wool from a Paton's pattern book.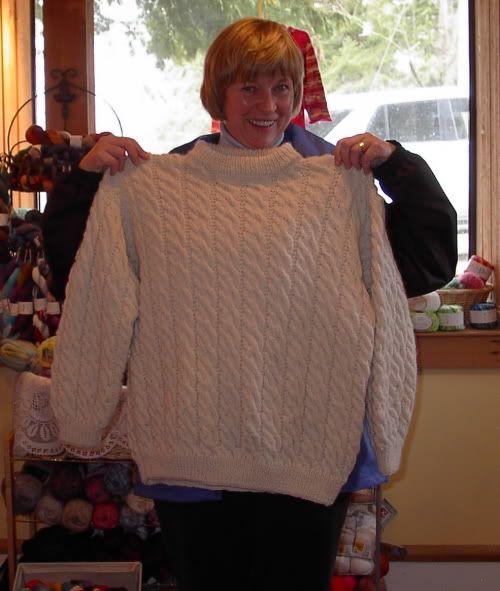 And finally here is a picture of meika shoping. She has good taste she is shopping in the Noro bin picking out her poncho colours. Can she ever mess up a ball of yarn fast. She is wearing a little sweater my Mom made with Petticoat sock yarn. Here is the pattern she loosely followed. It only took 1 ball of yarn. Mom put a contrast colour on the cuffs and button band. It is very cute.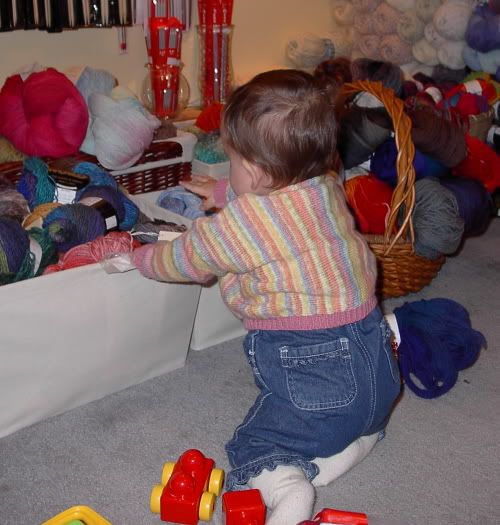 I have been knitting a lot lately but have nothing to show you. I am half done all kinds of things. Some day I will show some fininshed items.
A note to everyone who shops at the store or with me online. I am placing an order for Lorna's Laces this week. If you want anything let me know before Wednesday. i am out of the Quadra Island and Fun Knits colours sock yarn.