Here is a great sun hat made with Opal Petticoat # 1336. This pattern is free with the purchase of any Cotton or Silk at my Web Store. Be sure while you are there to check out the great sales I am having. I have Opal Rodeo Cotton, Opal Silk, Opal Batik, Opal Rodeo, Elements and Prisma all on sale. It is very rare to find Opal on sale so take atvantage while the sale lasts. These sales are in store too.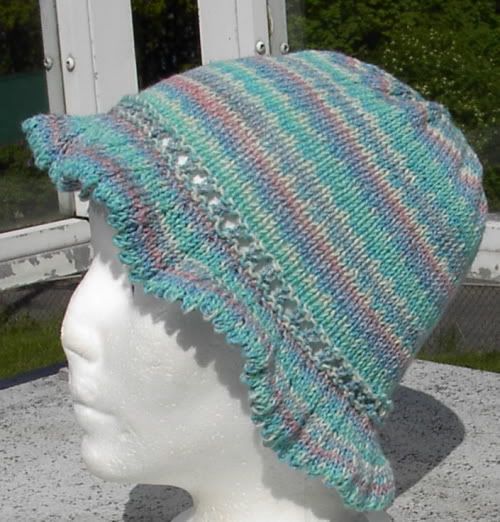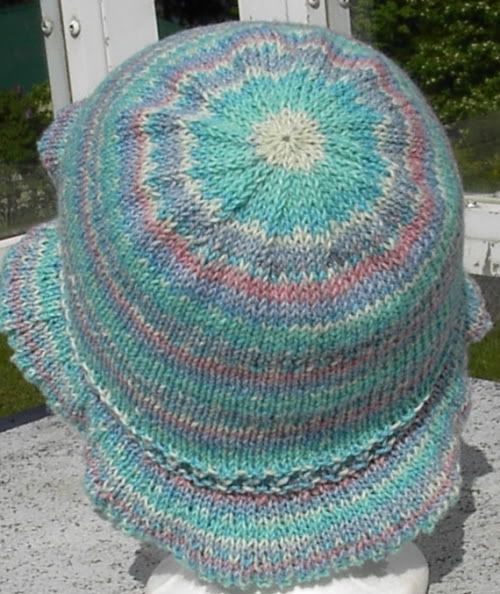 Back to the Sun hat. It only took 1 day to knit it and if it is knit on 3.5mm (4US) needles it will fit an adult as shown. This hat is for my Mom for Mother's Day - Happy Mother's Day Mom - I Love you!!.
If this pattern is knit on 2.75mm (2US) needles it will fit a child. It is fun and easy to knit. It only took 40 gr of yarn so I have lots left for a child's hat for Meika.
Had a great day at the store yesterday. Lots of customers and I was busy all day. No store pictures to show I was too busy knitting the little cotton hat. Brenda was over and that was fun as always. Happy Anniversary Brenda and enjoy your Malabrigo. It just gets better the more you snuggle it.