This is a new line of yarn I am offering at Fun Knits both in store and at the Web Store. It is called Island Hues. It is the same yarn as Season's yarn which is now sold out. 100% Merino in lace weight and fingering weight. The colours are either vibrant or soft and pastel. They are all hand dyed by Judy Maclean of Vancouver Island. What is shown here is my entire order. Lots of yummy soft yarn.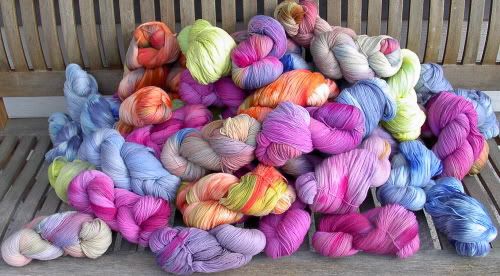 It has since been labeled and looks like this.


This is a close up of Orange hues. It turned out beautiful. If you want to see the rest go to Web Store and follow the links to Island Hues. I love this yarn and am just working on ways of plying the lace weight to get new neat colour combinations. Stay tuned for more on that.