I have 2 yarns on Sale for the month of June Gedifra Fashion Trend Sportivo ( shortening this to Sportivo right now) and Bravo Crazy Color at Fun Knits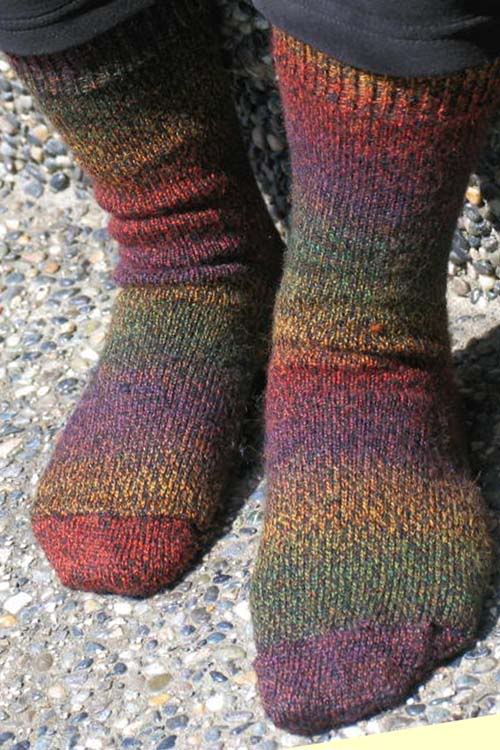 The Sportivo is amazing yarn . If you like Trekking you will love this yarn. It is very soft and cushy ( if that is a term). It seems thicker than other sock yarn but once you start knitting it isn't. It is 70% wool, 23 % nylon and 7% polyester (elastic). This elastic gives the yarn a springness( probably not a word either). Below is a close up of the yarn. The colour changes occur on one part of the ply only. So in the case of this colour 5762 the denim blue is contant and it changes from purple to light blue to green and then back. The colour change is very subtle and flows. The sample socks above # 5793 I didn't knit but from the yarn it looks like the dark grey is the solid colour and then it has the green, gold, burgundy and purple changing. Can you tell I love this yarn.



This is my sock. I hoped to get a pair done for the picture but I had a really busy few days. I will post a finished picture soon. This yarn is supposed to retail for $11.95 Canadian for a 50gr ball but I got a good deal so am passing it along. My regular price will be $7.50 and the June Sale price will be $6.25 a ball. US price Reg. - $6.50 Sale $5.75Great savings on great yarn.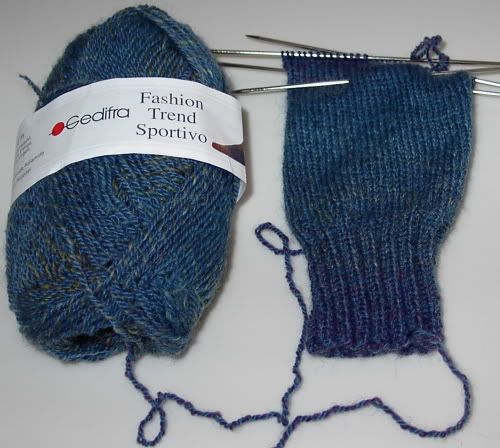 My other yarn on Sale for June is Bravo Crazy Color. Now I am not an acrylic fan but this 100% Acrylic yarn is an exception. It is really nice. I have knit several items with it. We have a the hat pattern free at the Bravo site. This hat was made with #81 and the little baby sweater (guess who that was for) was made from #86. This is a DK weight yarn and I used a basic Sirdar pattern for the baby sweater. I am going to igure out a sock pattern and will post it once done. My nephew is a huge fan of the patterned sock yarn but can't wear wool. So I am going to make him a pair of socks from Bravo Crazy Color. He hasn't to picked the color yet.
This yarn is regular $4.45 Canadian and on Sale for the month of June for $3.75 for a 50 gr ball. US price Reg. $4.05 Sale - $3.50
Go To Fun Knits - click on Web store and then shop in the currency you choose.